Stone repair & replacement
Stone repair and replacement solutions for architectural details such as stone facades, cornice, balustrades, stone windows, lintels and porticos. If you have a sandstone or limestone building with damaged stone masonry in the north east then our stonemasons can offer a number of stone repair options.
You can read on to learn more about our modern and traditional stone repair techniques. If you have any enquiries then please contact a stonemason for helpful expert advice.
We welcome any opportunity to discuss your project and find a solution that is right for you.
Natural stone replacement
This is the most widely recommended method for any stone repair work. Whole units of defective stone masonry are cut out and replaced with new units of natural stone that are geologically compatible.
Compatibility is important to ensure that the replacement stone does not cause or accelerate the decay of adjacent masonry. Ideally the new stone is quarried from the original source, where this is not possible the most suitable material available is used.
Stone indenting
Also known as piecing in. This is stone repair method is normally employed when the removal of whole blocks of stone would affect the structural stability of the building.
A decayed section of stone masonry is cut out and replaced with another piece of natural stone that precisely fits the newly formed cavity. The rear of the stone indent is secured to the original block with non-ferrous or stainless steel dowels that are chemically anchored. As with natural stone replacement, geologically compatible stone is selected for the repairs.
Stone surface repair
These are cosmetic stone repairs that are carried out to stone masonry that has suffered some form of superficial deteriation. The repairs are undertaken in-situ using repair mortar, this means minimal disruption to the building or structure.
Stone repair mortar is available in different forms but can be broadly classified as follows:
A combination of natural hydraulic lime, blended sands/aggregates and clean potable water. This can be mixed by the stonemason or specialist on site to suit particular conditions, strengths and colours of stone masonry.
Generally manufactured in a laboratory using a mixture of polymers and aggregrates with a catalysing agent. They are lightweight and extremely fast drying. Where invisible stone repairs are required the mortar can be dyed or stained to match adjacent stone masonry.
Structural stone repair
Structural repairs are undertaken where cracks in stone walls, lintels or window cills threaten the stability of the masonry and it is not practical to replace the damaged stone.
Slots are cut into the cracked stone member and a combination of epoxy resin injection and stainless steel reinforcement is used to pin the two cracked pieces of stone masonry together. To complete the repair the slots are filled by indenting or surface repairs.
Cast stone replacement
Where replacement with new natural stone masonry is not a practical option, replacements can be reproduced to match the original masonry in natural stone or artstone (artificial stone).
The new masonry is cast from a synthetic mortar or natural hydraulic lime mortar. The mortar is usually mixed or dyed to match the colour of the surrounding area so that the stone repair is invisible once it is complete.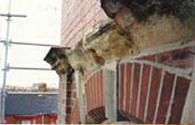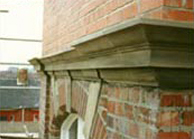 Above:
This sandstone cornice was severely eroded but structural and cosmetic stone repairs restored its crisp architectural detailing and maintained the aged character of the building.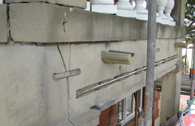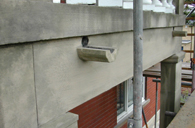 Above:
This sandstone lintel was cracked in several places and replacement was not a viable option. The first photo shows the lintel was slotted and pinned together using stainless steel reinforcement and epoxy resin injection. In the second photo you can see that the reinforcement and stone repairs are totally invisible once the works are complete.