Stone Fireplaces
Natural stone fireplaces in elegant traditional and contemporary designs. Many sandstone, limestone and reconstructed stone fireplaces available for you to choose from. A range of fireplaces suitable for solid fuel, gas and electric fires and stoves.
Enquiries
Buying a stone fireplace can be pretty complicated, especially if you're new to it all. If you know what you like but not sure what you need then please contact us. You'll be under no obligations, just good straighforward advice from a time served stonemason.
Place an order by telephone
You can also contact us to arrange or place an order by telephone or email if you would rather not buy online.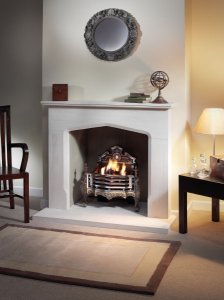 You can see many more beautiful stone fireplaces with full details and prices at our Ebay shop.
We also sell a range of stone care products for protecting and cleaning sandstone and limestone fireplaces.

Buy stone fireplaces online at our shop